Harvest / Post harvest
Agriculture Victoria's researchers at Agribio, Bundoora, are looking at ways to optimise fruit maturity at harvest, using non-destructive technologies, to meet market expectations and to understand how fruit maturity affects storage and its impact on fruit composition and quality.
Video: Harvest maturity impacts fruit quality, Spring 2019
Presentation - Harvest maturity impacts fruit quality (from Stonefruit Research Roadshow August 2019)
Presentation - New fruit monitoring technology (from Stonefruit Research Roadshow August 2019)
Variable maturity at harvest affects fruit responses to shelf life, cold storage and consequent quality through the handling chain. Fruit composition and flavour volatiles in particular, are a fundamental element of fruit quality and therefore consumer acceptance. The fruit volatile profile is affected by fruit maturity on the tree, during postharvest storage and consequent ripening.
This project aims to generate knowledge of the interaction between harvest maturity measured by the DA-Meter, storage and ripening behaviour and resultant effects on soluble solids content (SCC i.e. brix - fruit sweetness index), firmness and volatiles profile. This project is linked to the stonefruit trial orchard in Tatura and to 'optimal ripening protocols' to which will deliver preliminary data on the varieties used and will add important information for the protocols.
This project will identify maturity classes to optimize harvest timing depending on the market of choice, with particular emphasis to export, for up to 10 nectarine and peach varieties. The project will generate cold storage and ripening protocols. The results will provide knowledge to optimise fruit quality and consistency on domestic and export markets. Consistent, high quality fruit will increase consumer demand and provide a point of difference for Victorian stonefruit increasing both domestic and export markets by at least 5% equating to an increase in export value alone of $15 to $20 million per annum.
Video: Introduction with Christine Frisina
Christine Frisina, from Agriculture Victoria (Agribiosciences in Bundoora, Victoria), discusses the work on comparing stonefruit maturity, quality and volatile composition such as the interactions between aromas and cold storage.
Picking fruit for optimal flavour and storage - presentation by Christine Frisina at the 2017 Stonefruit Research Roadshow (slides only)
Video: fruit volatiles in stonefruit and pear associated with aroma in post harvest storage
Allessandro Cecarelli, PhD student from the University of Bologna, Italy, in collaboration with RMIT University and Agriculture Victoria, talks about changes in fruit volatiles in stonefruit and pear associated with aroma in post harvest storage.
Dr Dario Stefanelli introduces the DA Meter (non-destructive fruit maturity measurements) and the concept of measuring fruit maturity in the field to determine harvest timing.
Dr Dario Stefanelli discusses using the DA meter in the fruit orchard to determine fruit maturity.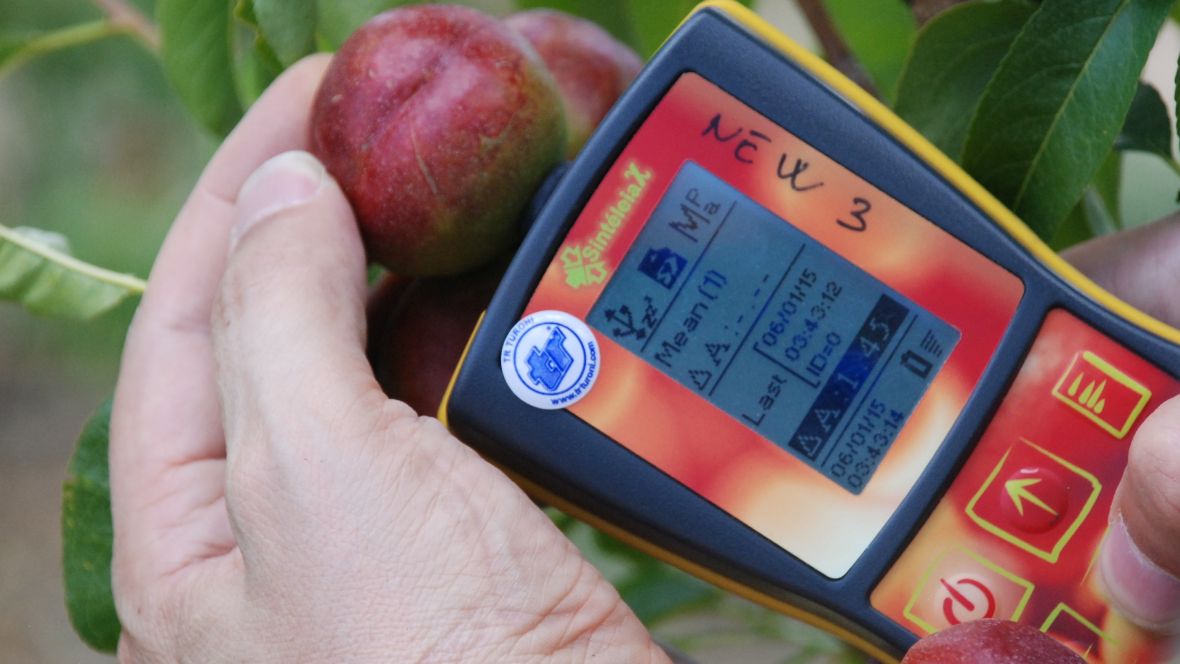 This research project, SF15001 Comparing Stonefruit ripening, quality and volatile composition, was funded by Agriculture Victoria with co-investment from Horticulture Innovation Australia Limited using the Summerfruit levy and funds from the Australian Government.