The 3 ha stonefruit research orchard, was developed in 2013-2015 to investigate future production systems to deliver the best quality fruit to meet market expectations.
The research orchard contains:
high density plantings,
multiple rootstocks and cultivars,
alternative canopy architectures, and
advanced irrigation and fertigation technologies.
Topics:
The experiments for the stonefruit future production systems were determined an industry consultative committee: Stonefruit Field Laboratory Advisory Committee
SUMMARY Summary of field experiments & demonstration blocks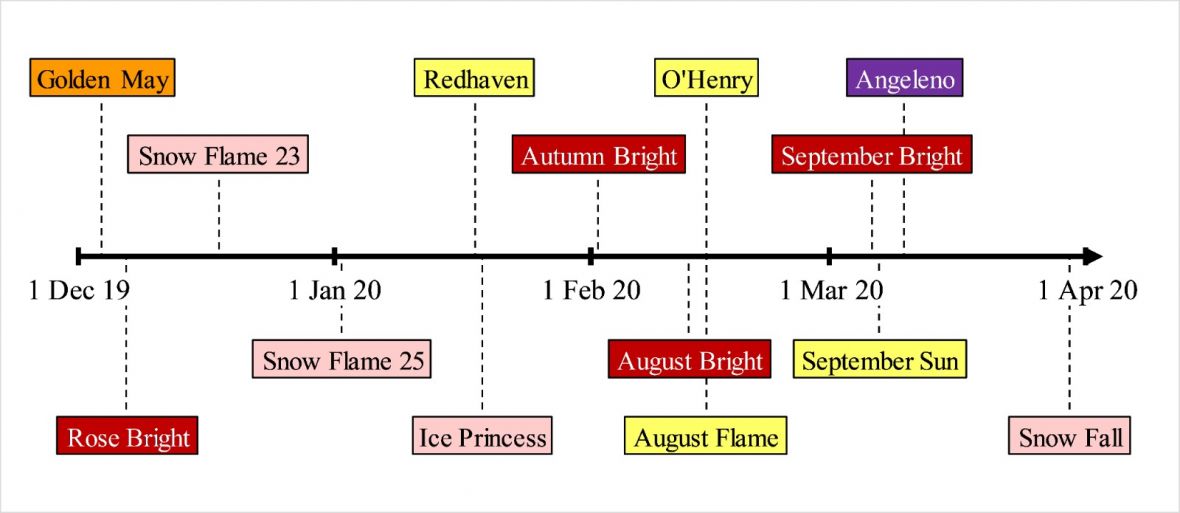 Apricot: Golden May
Nectarine: August Bright; Autumn Bright; Rose Bright; September bright; Ice Princess
Peach: September Sun; August Flame; O'Henry; Snow Flame 23; Snow Flame 25; Redhaven; Snow Fall
Plum: Angeleno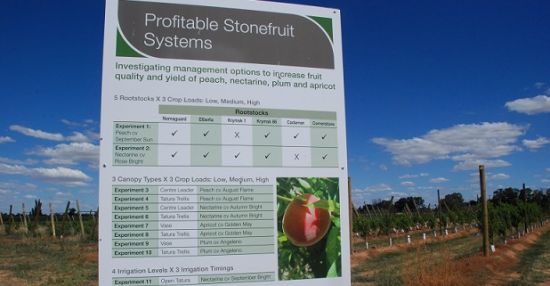 rootstock x cropload: Peach & Nectarine
cropload x canopy: Peach, Nectarine, Apricot & Plum
irrigation: Nectarine
demonstrations: Peach & Nectarine
Fruit attributes of crop and cultivar types used in the stonefruit research orchard.
Nectarine cv. Rose Bright, Snow Flame 23, Snow Flame 25, August Bright, Autumn Bright, September Bright
Plum cv. Angelino
Apricot cv. Golden May
Peach cv. Red Haven, Ice Princess, O'Henry, September Sun, August Flame, Snow Fall
Video: Procedures and methods to establish the stonefruit field laboratory.
In this video Dr Mark O'Connell discusses how this high density orchard was established (September 2017).
Things to consider:
Cultivar
Canopy architecture
Row dimension
Row orientation
Tree density
Irrigation headworks
Research harvest facility
Irrigation headworks
Video: Dr Mark O'Connell introduces the irrigation headworks shed for the Field Laboratory in Tatura, Victoria (February 2015).
Video transcript - irrigation headworks
I'm standing in the irrigation head works shed where we have twenty two irrigation lines feeding in from the main pump of the irrigation channel. And here we have the filter system, the irrigation controller. And each irrigation management unit we have solenoids, a water flow meter and a pressure gauge to monitor and control our irrigation inputs for each of the field experiments in the stone fruit field laboratory. So, for example here we have our 12 lines for our 12 different irrigation treatments for the irrigation experiment. So, we'll set these in year three of that crop. At different growth stages we will stress at different levels, we will vary the amount of water inputs to those trees and stress those trees at different levels of the crop growth cycle. We are yet to install the fertigation system, but we will be using these Dosatron units and we can potentially individually fertigate each irrigation line separately or in collective mode.
Research harvest facility
Video: Dr Mark O'Connell discusses the new Harvest Facility at Tatura (Agriculture Victoria) with a commercial fruit grader equipped with sensors for scientific analysis. (November 2016)
Video transcript - Harvest facility
I'm Mark O'Connell from agriculture Victoria and welcome to the harvest facility here at Tatura. What I'm standing in front of today is a fruit grader, a sorting grader. It's a commercial grader, and it's equipped with a number of sensors to help us measure and understand fruit quality, both internal and external features of the fruit. And what we're really interested in is capturing the data of individual fruit to examine our experimental results from the field. We have a range of field experiments on stone fruit and pears at the research station here at Tatura. And, a lot of experimental plots and measurements are required to understand those experimental treatments. They include agronomic management like root stocks, crop load (the amount of fruit we put on trees), irrigation management, training systems etc..
So, I'll give you a quick run through of some of the features of this grader. It's yet to be fully commissioned but basically the design is that it can individually weigh fruit, measure size and diameter. And, in this box here there's a couple of sensors. There's a visual camera system and an infra-red camera system that basically lets us measure the external features, the skin features of the fruit including colour and blemish, limb rub, russet type features for example. As we go down the line, we have another sensor called the NIR which basically measures internal attributes of the fruit, that could be sweetness and some other maturity indices, and/or water core in apple, for example. And then we go into the next sensor, where there is a load cell here that weighs individual fruit. And obviously, with the smart software, you collect that individual fruit data and then you get to petition and sort that fruit into those groups of quality and size or colour that you decide. So that's pretty well the basic layout of the machine.
Behind us, behind the machine we have two new cool rooms, which we'll be able to obviously store large amounts of fruit once the harvests come in from the field. And behind that facility we have two C A rooms where we will have set up shortly, some chambers to examine different atmospheres e.g. for post-harvest transport, shipping etc.. or aircraft type, airfreight type protocols.
This research (SF12003 Increased stone fruit profitability by consistently meeting market expectations; SF17006 Summerfruit Orchard Phase 2) was funded by Agriculture Victoria with co-investment from Horticulture Innovation Australia Limited using the Summerfruit levy and funds from the Australian Government.