A suite of irrigation trials in summerfruit for yield, quality and irrigation best management practices
Video: August 2019 - Dr Mark O'Connell discusses Regulated Deficit Irrigation (RDI) for stonefruit to maintain yield, fruit size, and fruit quality.
The Irrigation experiment at Tatura's Stonefruit Field Laboratory aims to Identify the combinations of irrigation levels and timing that will enable the late season nectarine variety September Bright to achieve maximum uniformity in fruit quality attributes.
Nectarine cv. September Bright with Rootstock: Elberta
Planted winter 2014 in Open Tatura tree training at a density of 2222 trees/ha
The experiment has three irrigation levels and four irrigation application timings as treatments.
The irrigation levels (% of tree evapotranspiration), applied using drip irrigation, are:
0: extreme deficit irrigation to impose high level of water stress
20 & 40: deficit irrigation to impose severe and moderate level of water stress
100: control irrigation, crop water requirement to maximise yield
The experiment has four irrigation application timings and likely crop responses:
Stage I of fruit development: water stress restricts cell division, reduces fruit size and yield
Stage II of fruit development: water stress reduces vegetative vigour
Stage IIIa of fruit development (early): water stress reduces fruit size and yield
Stage IIIb of fruit development (late): water stress reduces fruit size and yield
Table 1: Irrigation experimental treatments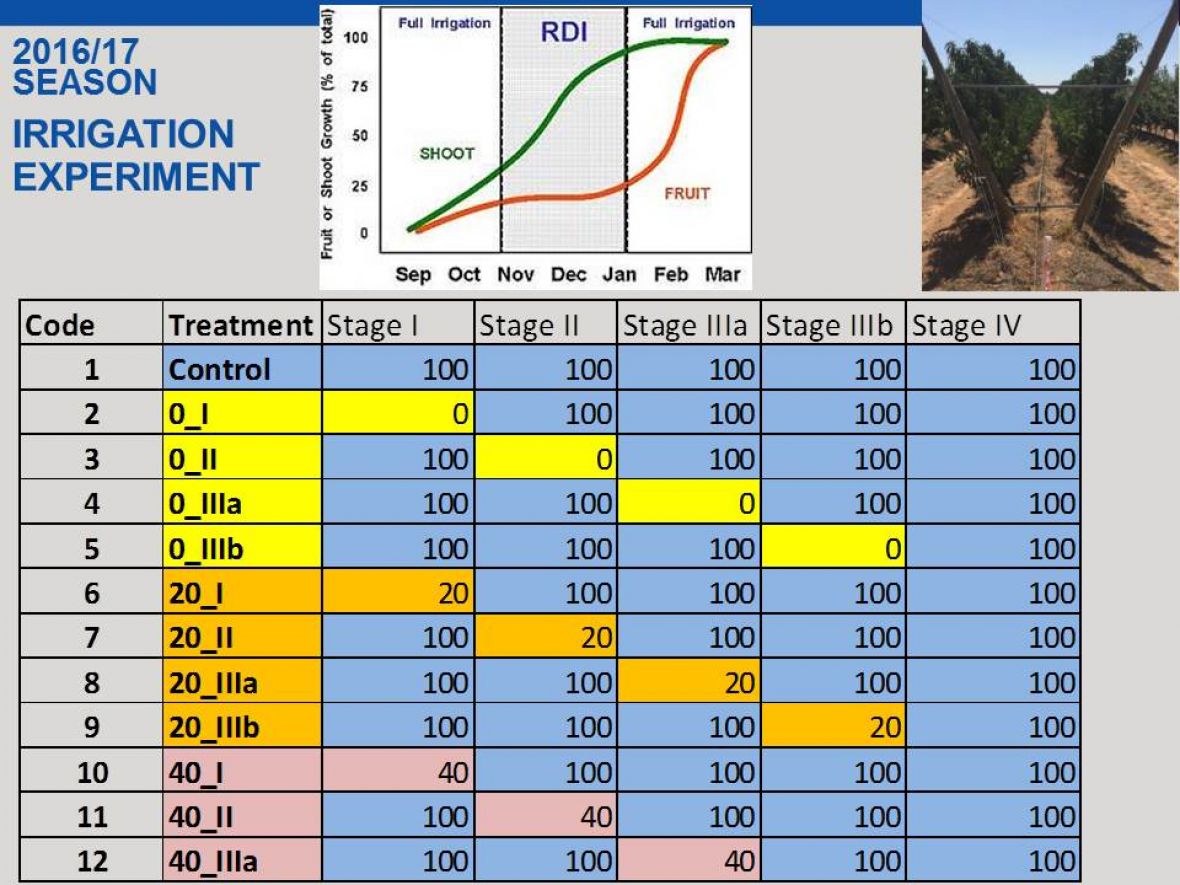 Regulated deficit irrigation (RDI) occurs during stage 2 of development. See Graph below.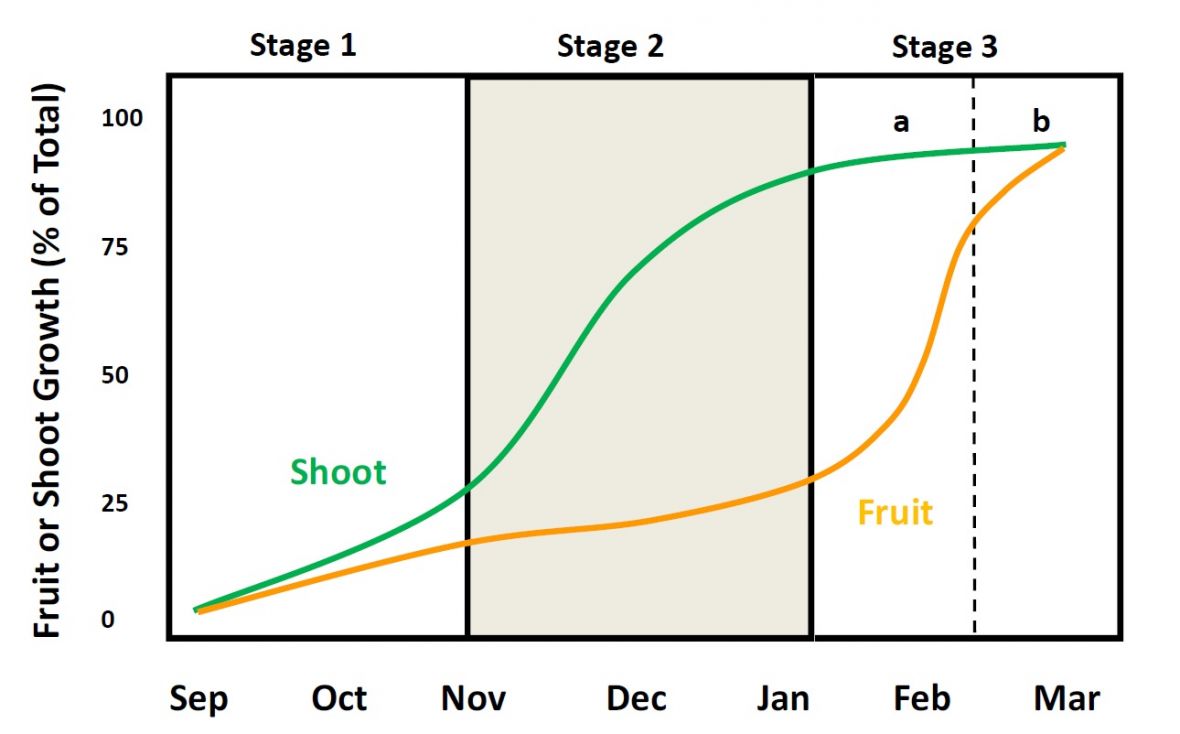 Dr Mark O'Connell discusses some of the findings from the irrigation experiment in the following video (9 min, 37 sec)
Every few weeks photos were taken of each experiment, and produced into a video to show the resulting growth of tree canopies and fruit development.
Photos of Nectarine, September Bright, on Open Tatura trellis, from 2015 to 2017
Continuous detection of plant water status
This study aims to test plant-based sensors for their efficiency in determining nectarine water status in a modern high-density orchard.
360 degree photos of tree structures in the stonefruit research orchard.
This research (SF12003 Increased stone fruit profitability by consistently meeting market expectations; SF17006 Summerfruit Orchard Phase 2) was funded by Agriculture Victoria with co-investment from Horticulture Innovation Australia Limited using the Summerfruit levy and funds from the Australian Government.