Researchers and events
Senior Research Scientist - Farming Systems Economics
Landscape & Water Sciences, Agriculture Victoria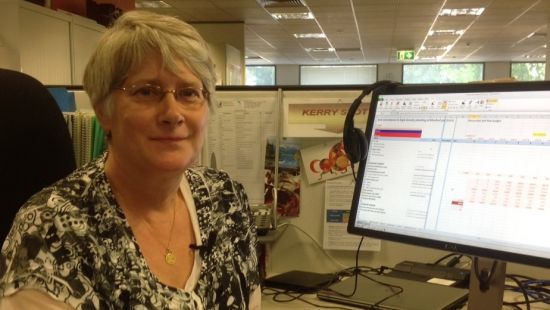 kerry.stott@ecodev.vic.gov.au
Type of Research / Topic:
an analysis of the profitability and risks of growing the new red blush pear varieties in modern high density management systems in support of the 'Premium Fruit to Asia' initiative*
Relevant Experience:
Kerry has over 30 years' experience in applied economic analysis in the agricultural sector.
applied micro-economic analysis of agricultural input and commodity markets;
analysis of farmers' decision making under risk using production economics and farm management principles; and
designing web-based decision support tools and databases.
Qualifications: Master of Agricultural Science (LaTrobe University). Bachelor of Agricultural Science (The University of Melbourne).
In 2009, Kerry joined the Land and Water Science team at the then Department of Environment and Primary Industries, where she has since worked on a variety of inter-disciplinary projects in the water, dairy, grains and horticulture industries. Her work involves collaboration with bio-physical modellers and scientists on the provision of objective information for the solution of production and environmental problems emerging from agricultural production. This followed an extensive career in the Australian wool industry (with The Woolmark Company and its predecessors) where she worked on the monitoring and analysis of all aspects of the global wool value chain from raw wool to the finished product.
*DEDJTR collaborators on the 'Profitable Pears Economic Analysis' project are Mark O'Connell, Bill Malcolm and Ian Goodwin. The project uses the 'participative case study method', and involves an Industry Liaison Committee and a case study orchard. The case study orchard is Plunkett Orchards' home farm (the 'Palms') in Ardmona in the Goulburn Valley; and we gratefully acknowledge the support of Jason Shields, the orchard manager, in this endeavour. To-date we have built a pear model based on production economics and farm management principles using @Risk; and we have customised the model to the case study orchard and for the base case scenario. The base case scenario is investment in traditional Packham pear production on a representative block on the case study orchard. The pear trees are planted at low density (343 trees/ha) on the vigorous P. calleryana D6 rootstock, and are large (4m), free-standing and vase shaped. Preliminary results highlight the importance of boosting the profitability and reducing the risks of pear production in Victoria through initiatives such as the commercialisation of the new blush pear varieties and the adoption of modern high density management systems. The model we have developed is being enhanced and adapted for assessment of the performance and risk of these alternative pear production systems.