This pear research orchard is designed to scientifically examine the effects of management practices on field and fruit quality of new red-blushed pear cultivars
Three experimental orchard blocks focus on different aspects of orchard management:
One block is revealing the effects of drip and microjet irrigation systems, irrigation frequency ('standard' or 'pulse') and root pruning on water status and growth of young pear trees.
Two blocks examine effects and interactions of:

rootstock, training system and tree density (referred to as the 'Planting system experiment'), and
cultivar and rootstock (referred to as the Rootstock experiment).
The pear research orchard will provide a resource for additional research projects. For example, the site will be used to explore aerial platforms for the capture of spatial data on tree water and nutrient status. We envisage that pear yield and fruit temperature models can be tested, insect behaviour can be examined and the effects of elevated CO2 on fruit quality can be investigated. The orchard at Tatura offers opportunities for growers, consultants and education groups to visit the site.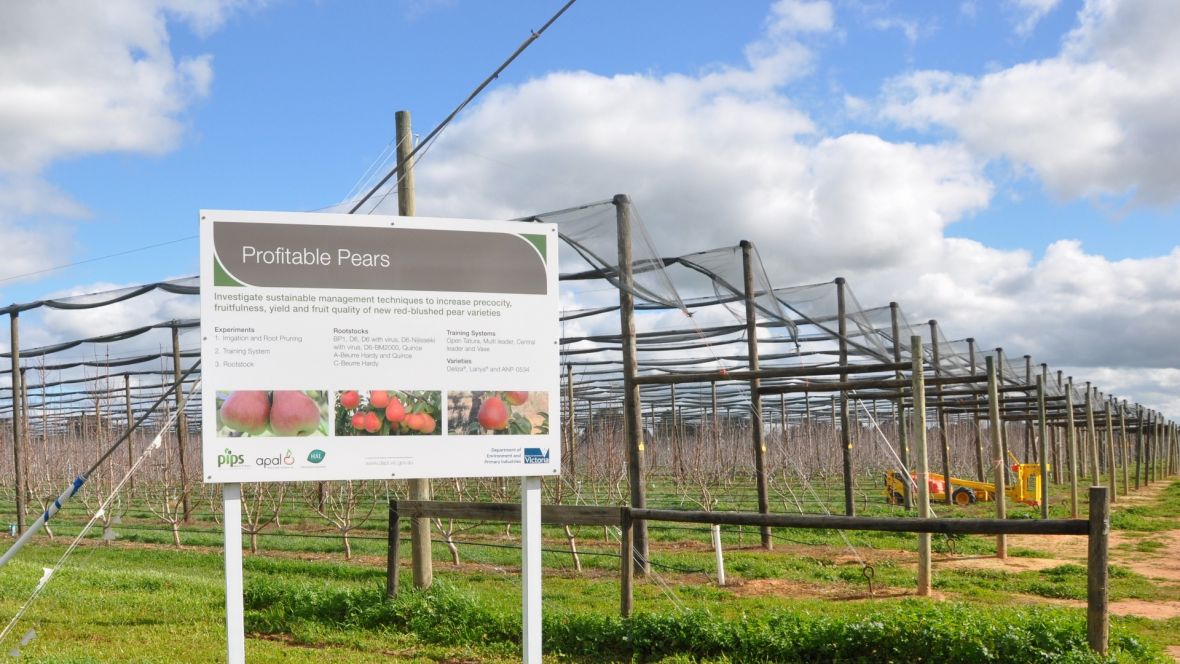 Profitable Pears
The objective of the Profitable Pears project is to develop orchard management systems for these new pear cultivars to maximise productivity 3 – 4 years after planting and sustain high yields of consistent quality fruit.
This project, AP12002 Profitable Pears: Maximising productivity and quality of new pear varieties, is funded by the Department of Economic Development, Jobs, Transport and Resources with co-investment from Horticulture Innovation Australia Limited using the apple and pear levy and funds from the Australian Government