Effects of porous silica on processing tomato cultivation
Water continues to become a critical resource and significant efforts are being dedicated towards efficient water management solutions for sustainable horticulture in Victoria.
This project focused on assessing the efficacy of porous silica as a soil additive to improve the water retention capacity of the soil and its potential to reduce water and soluble fertilizer consumption for processing tomato cultivation in regional Victoria. Porous silica, sold as Porous Alpha by Tottori Resource Recycling, is prepared by combining pulverized silica and calcium carbonate to create a porous material that is available either in granular or powdered form. Porous silica is hydrophilic and has a tendency to absorb upto 15% of its weight in water through capillary action.
Background
Irrigated water is lost from the soil mainly through three means – evaporative, percolative and absorption by the plants. Evaporation occurs due to soil heating during the day through solar radiation and the convection from the air. Recent research suggests that it can account for up to 35% of water loss from the soil. Percolative loss is the volume of water that passes through the soil and descends to depths or regions where it inaccessible by the root system of plants. This type of water loss is highly sensitive to soil type and in sandy soils, percolative losses can account for over 40% of water loss. Plants absorb only 25% of the water that is irrigated. Therefore, percolative and evaporative loss do not benefit plant health and in improving water management, it is critical to identify ways to reduce both water loss through both means.
Focus of this study
Soil additives have sought to address this issue including super absorbing polymers that have been tested in various farms in both Australia as well as internationally. While they have demonstrated water saving the high cost, low operational lifespan renders them prohibitive for largescale implementation. An alternative soil additive and one that is the focus of this project is porous silica. Porous Alpha is a soil amendment designed to increase the water retention of soil, reducing water usage as well as increasing yield in dry climates.
Results
The project consisted of a survey about porous silica where information on its usage as a soil additive in horticulture was collected and best use practices were identified. We also performed experiments in the laboratory to evaluate the effect of porous silica on water retention capacity of the soil. Experiments were performed on sandy and sand+clay soil profiles. For sandy soil, under laboratory conditions treatments with porous silica resulted in an increase in water retention capacity of over 20% measured 48hrs after watering. While the effect of mixing porous silica on clay+sand soil did not significantly increase water retention capacity.
Field tests on the effects of porous silica on processing tomato cultivation were also conducted in this project. Tests were performed in Echuca, in partnership with Kagome between September 2019 and March 2020. We found that planting beds that included porous silica resulted in an average increase in yield however due to a failure in one of the sub-surface irrigation lines, these effects could not be accurately estimated across different irrigation volumes. Soil tests revealed that porous silica did not contain any heavy materials and did not adversely affect the overall profile of the soil.
While the results from field testing showed relative alignment with lab tests, further field trials are necessary to estimate the overall effects of porous silica on tomato cultivation. The absence of any adverse impacts and the nominally positive outcomes suggest that porous silica (Porous Alpha) should be considered among the potential sustainable solutions to improve irrigation management in horticulture in Australia.
PDF Presentation: Effects of porous silica on processing tomato cultivation (Note: this document does not meet WCAG 2.0 accessibility guidelines)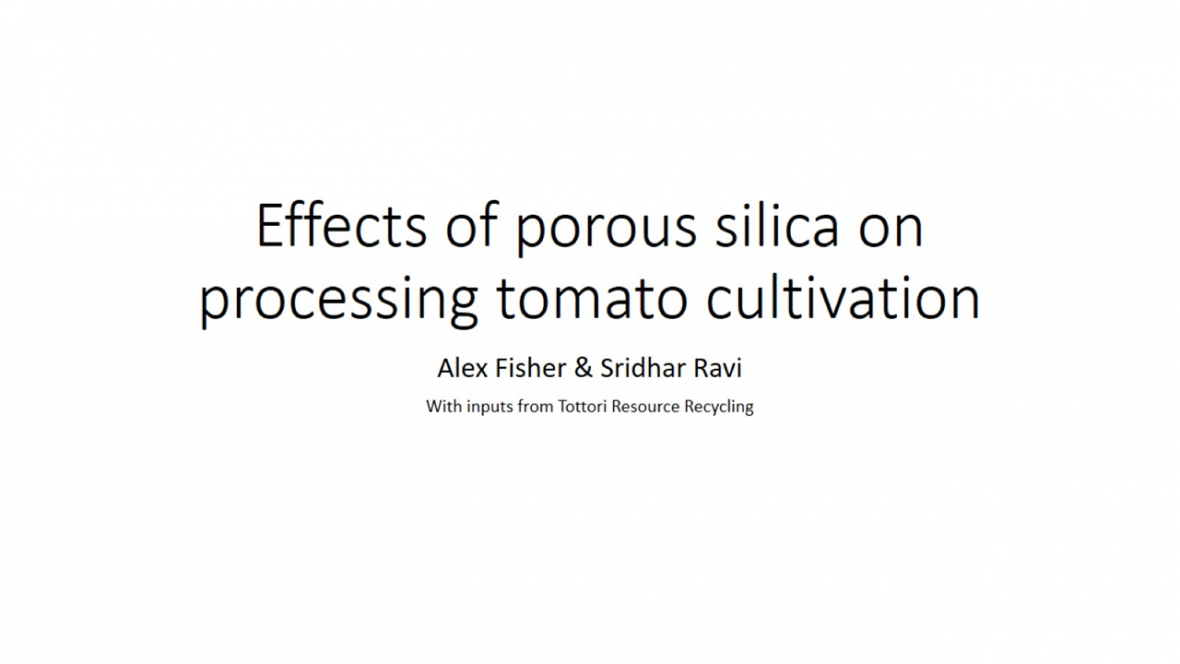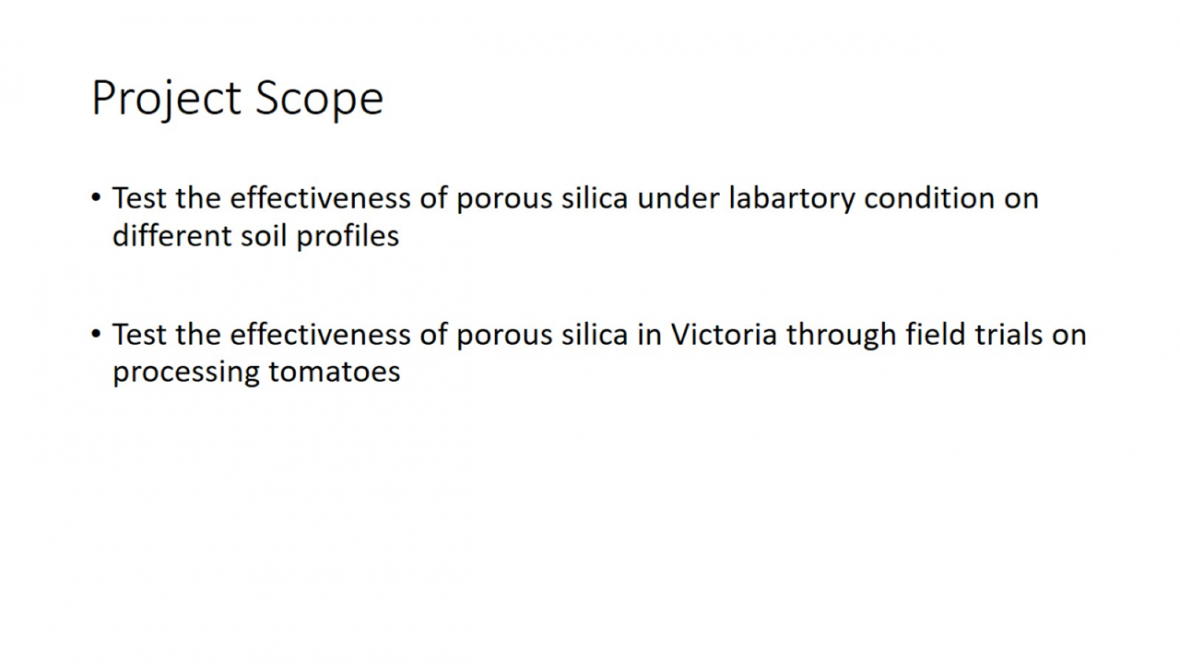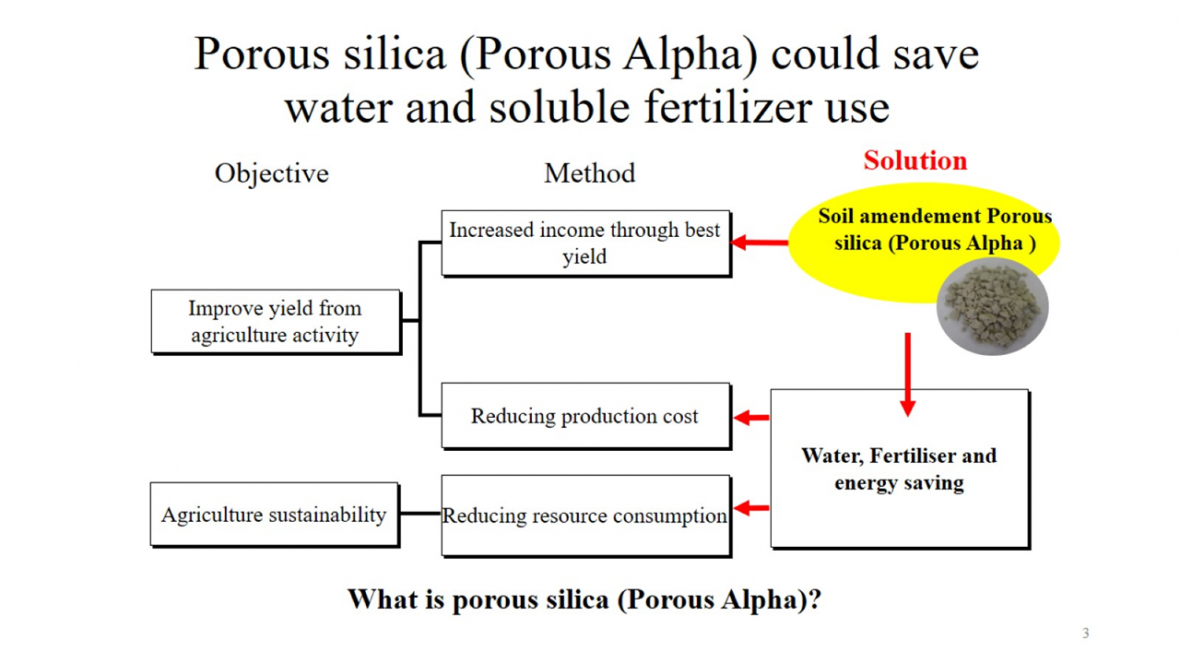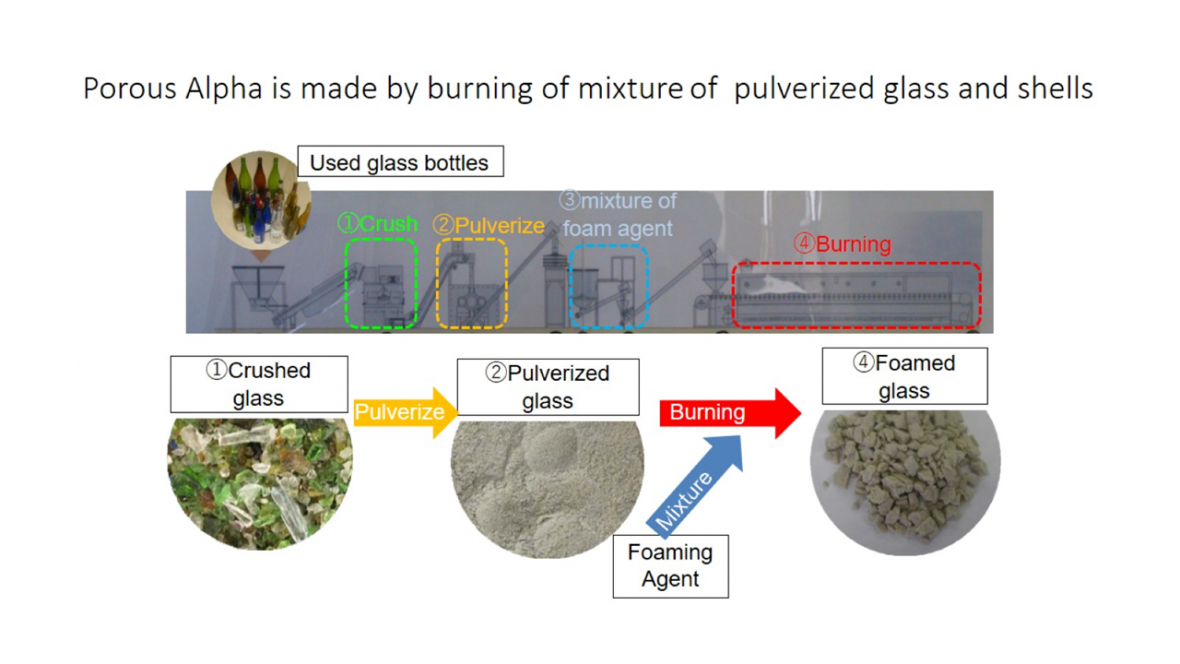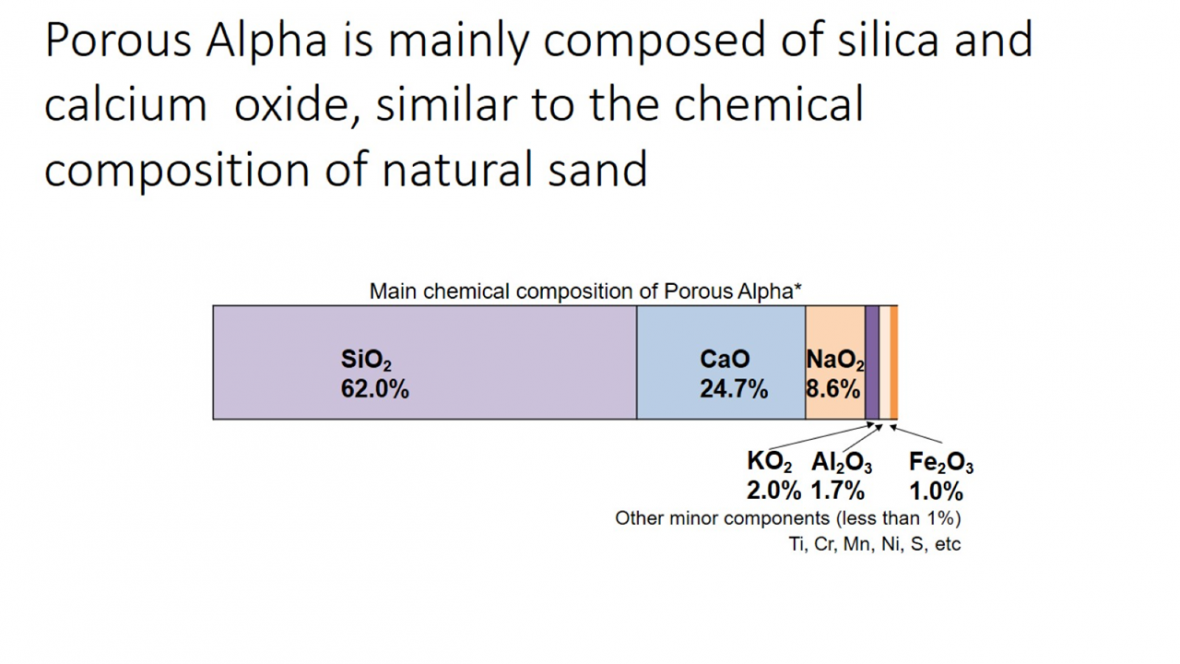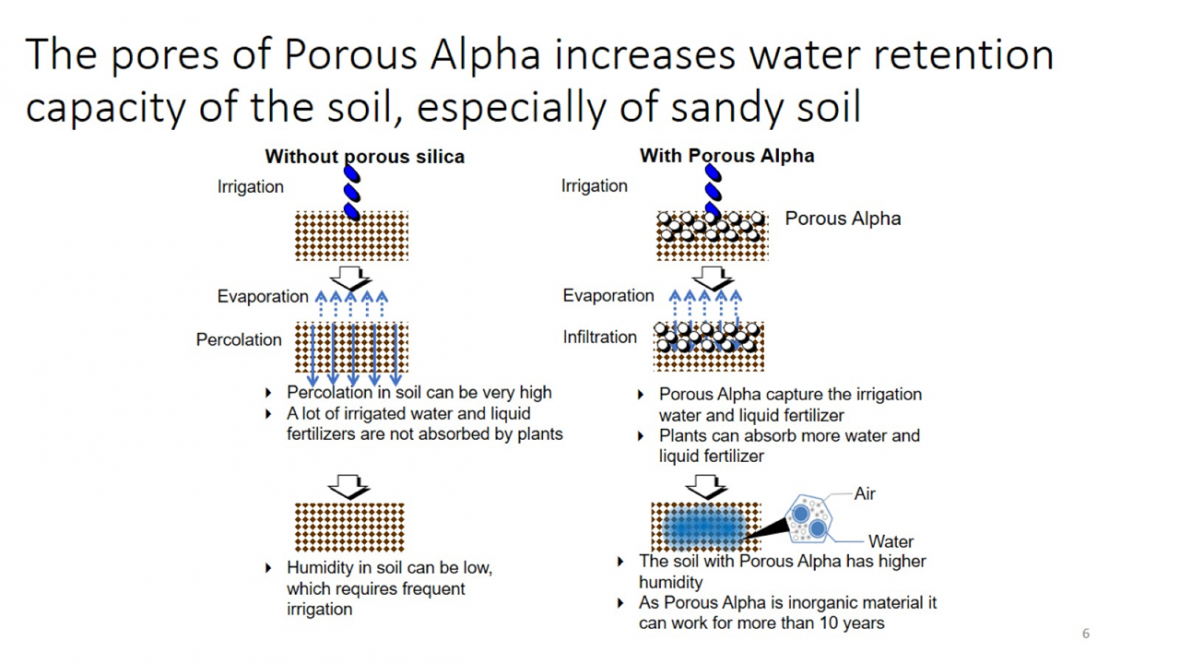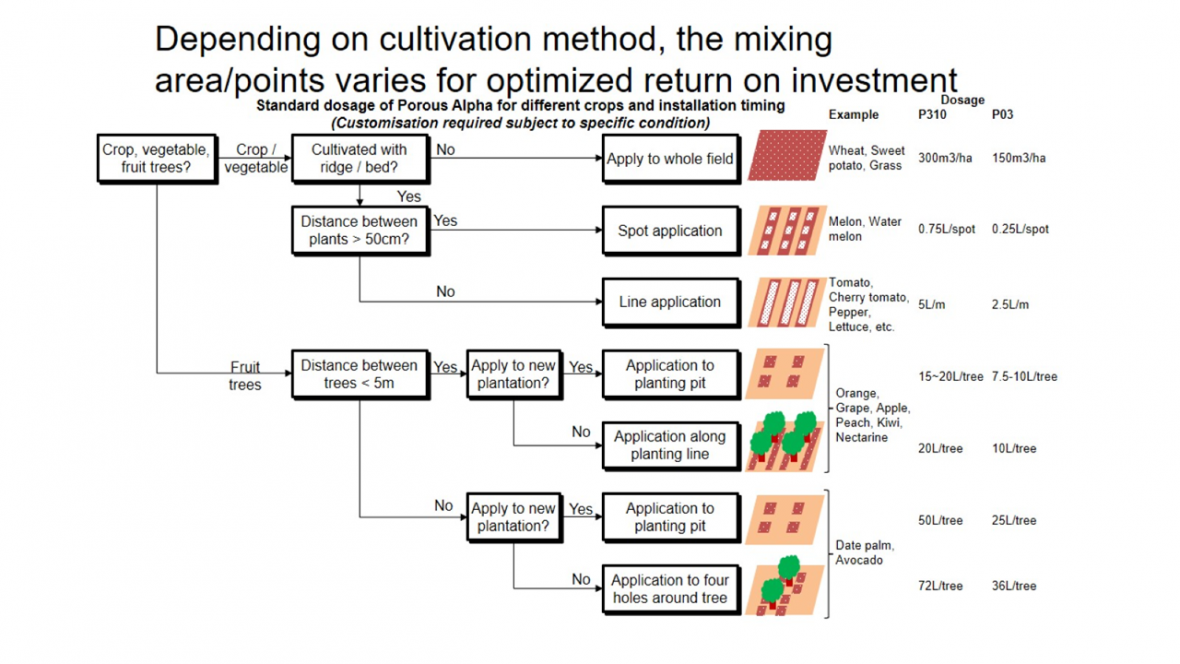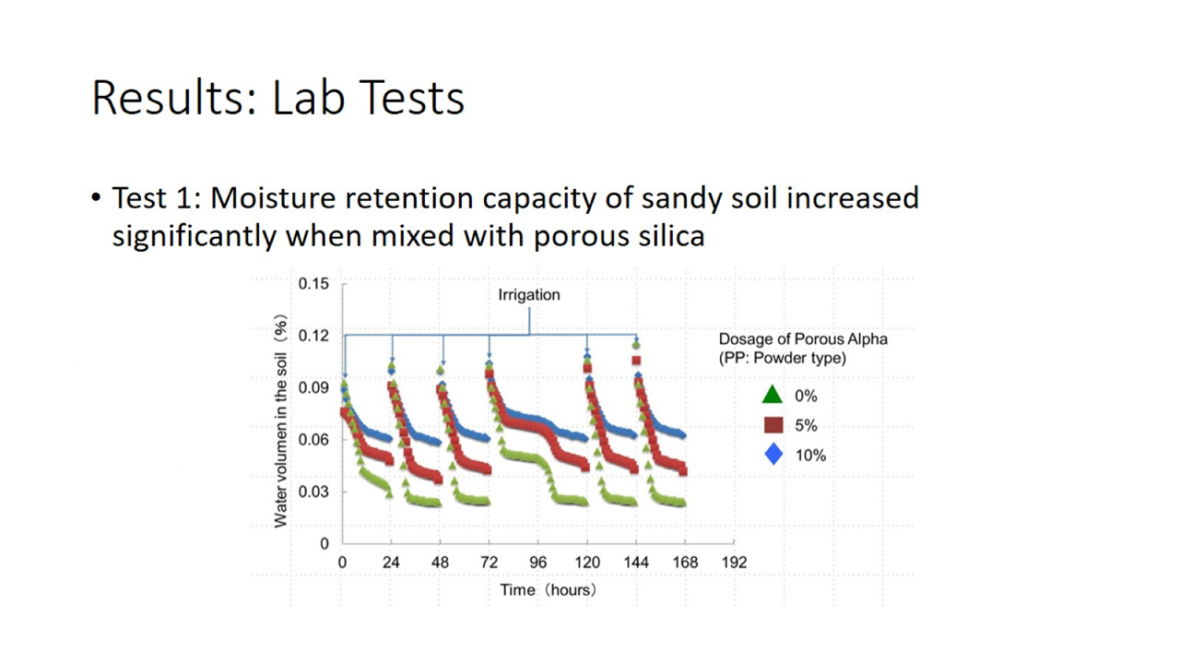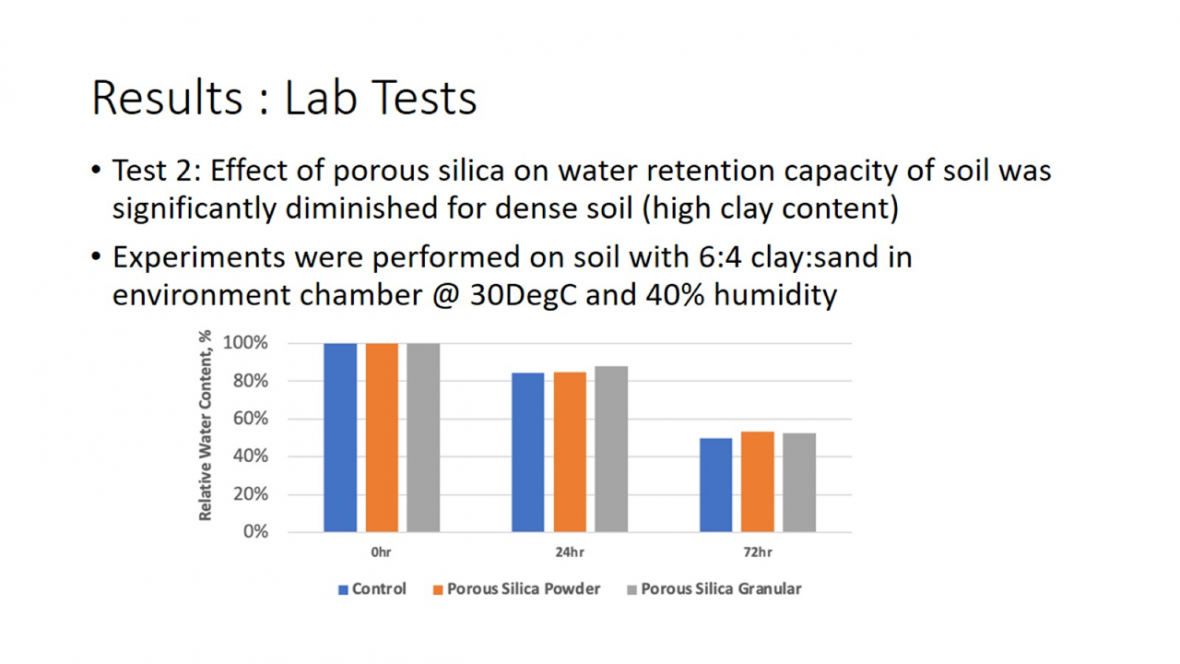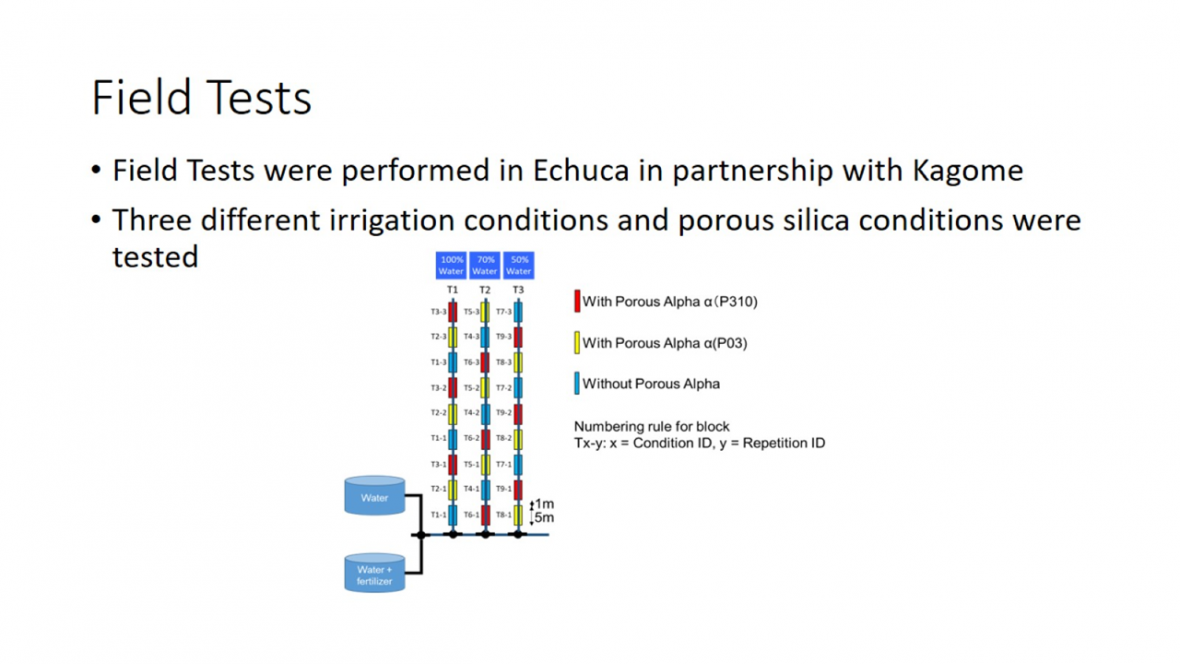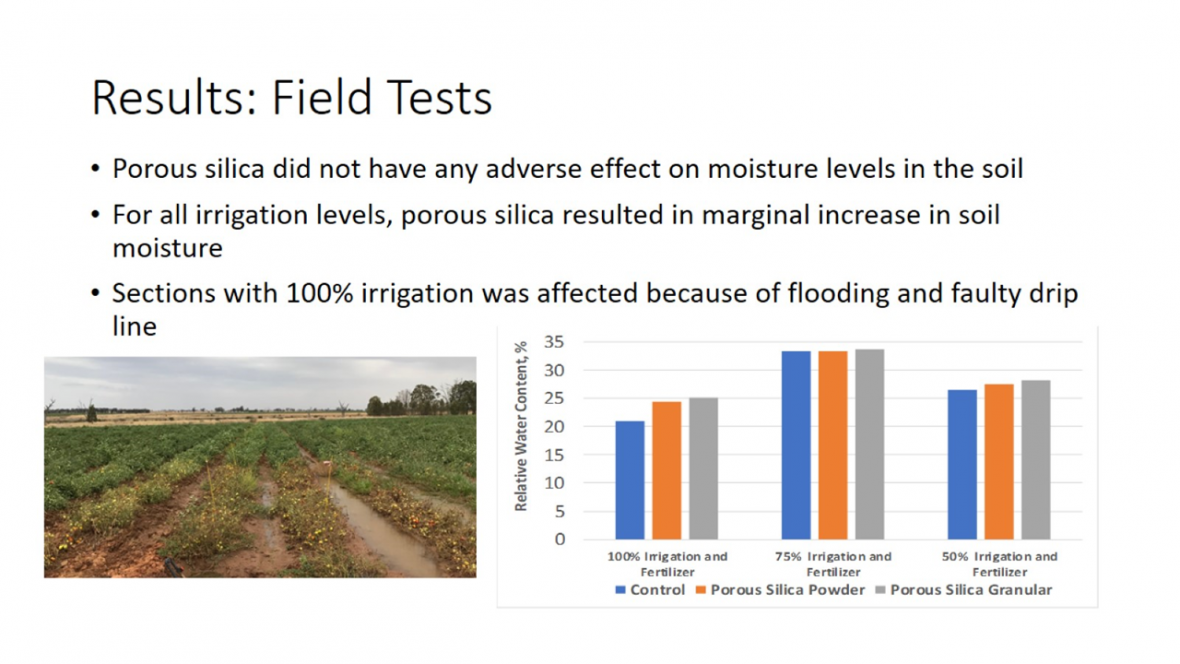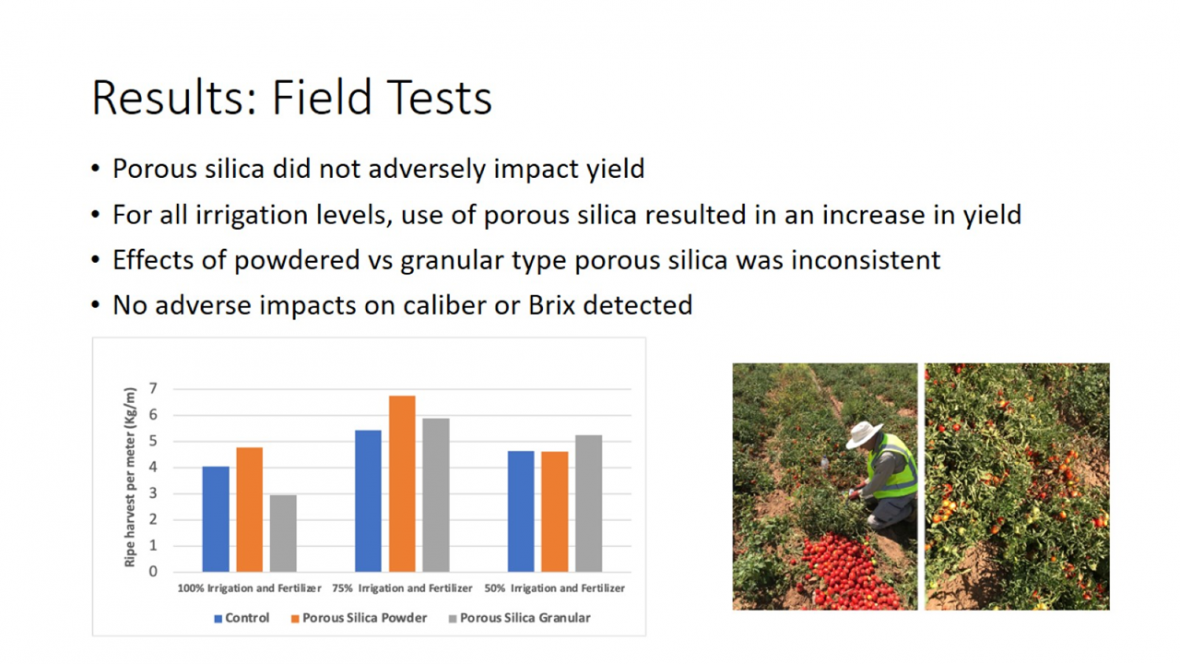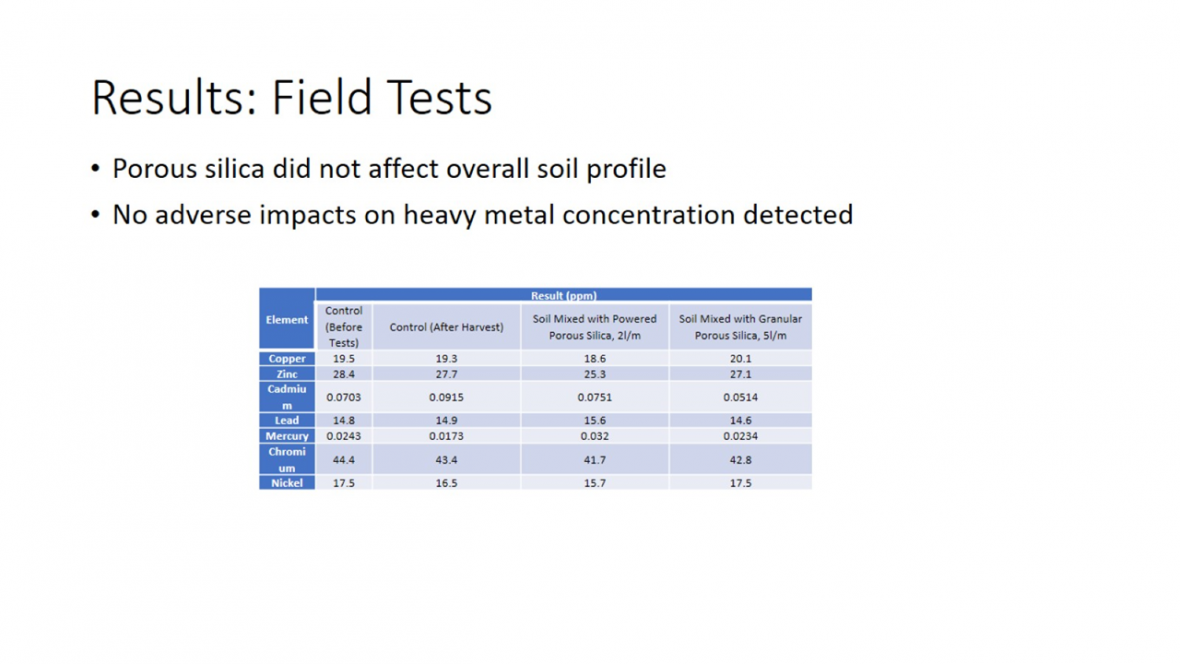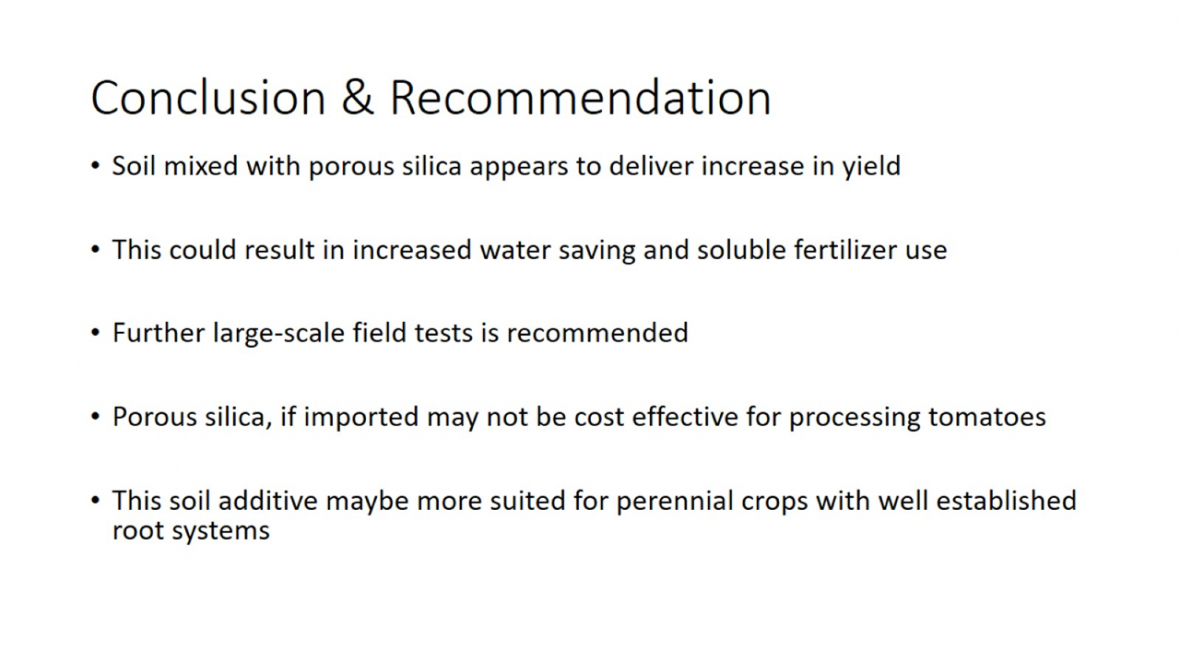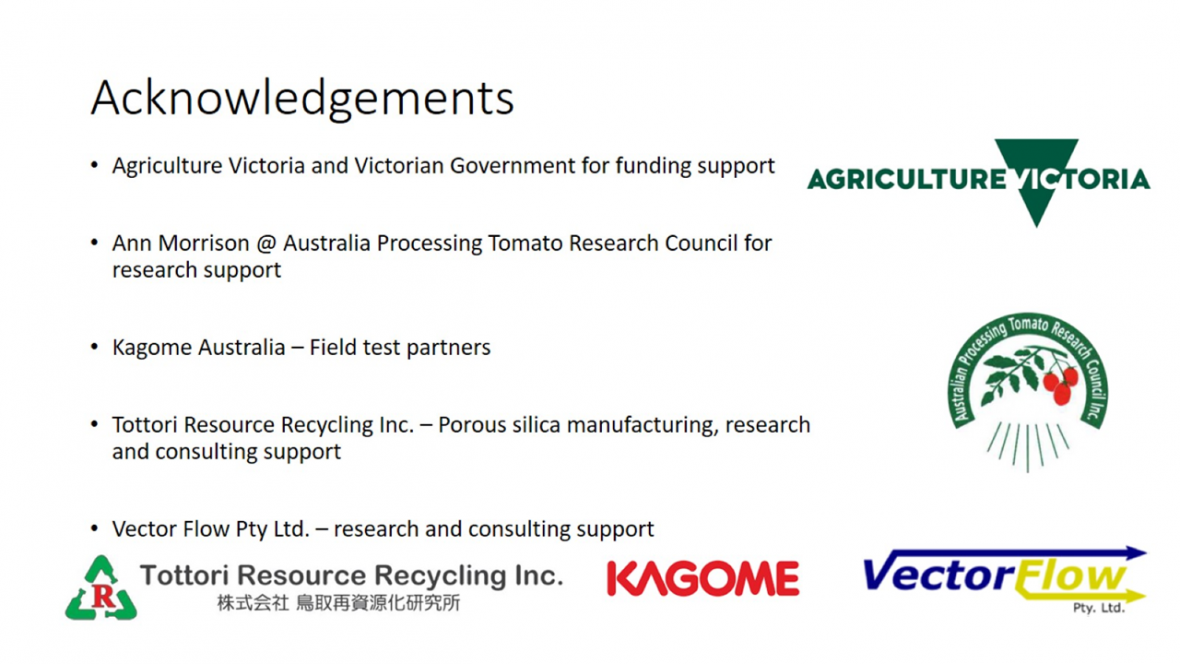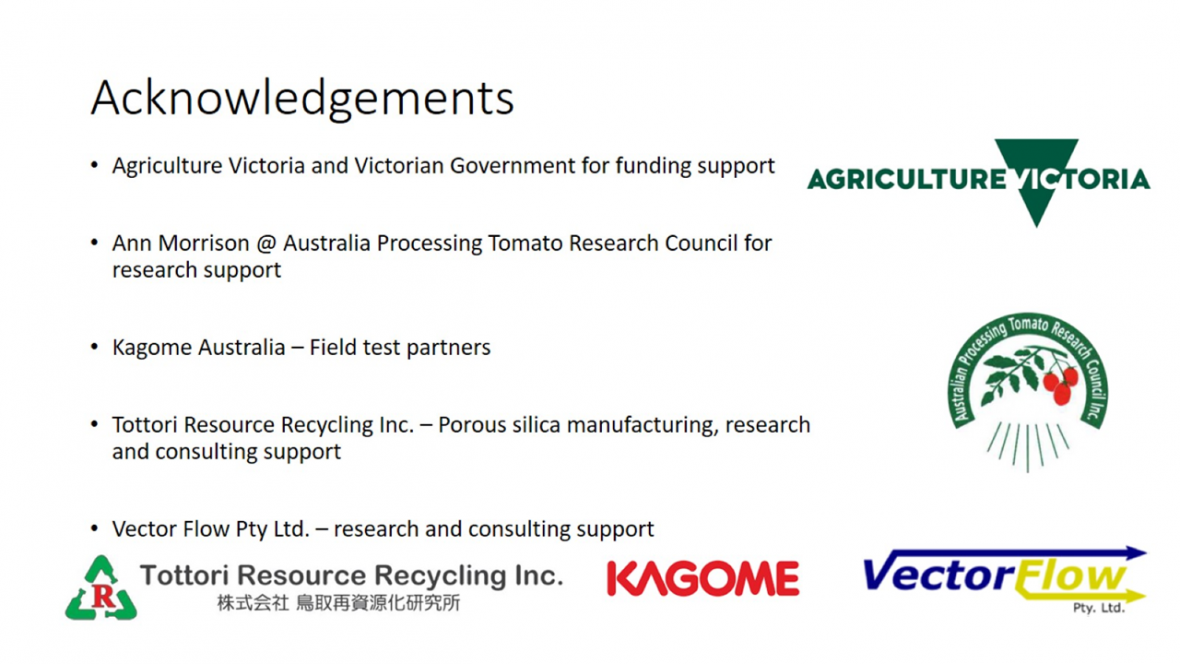 Acknowledgements
Agriculture Victoria and Victorian Government for funding support
Ann Morrison @ Australia Processing Tomato Research Council for research support
Kagome Australia – Field test partners
Tottori Resource Recycling Inc. – Porous silica manufacturing, research and consulting support
Vector Flow Pty Ltd. – research and consulting support