Determining optimum fruit maturity through non-destructive testing.
The pome and stone fruit industries in Victoria account for 70% stone fruit, 40% apples and 90% pear production nationally (HIAL Summer fruit 2016) of which the Goulburn Valley are a major contributor. The above industry priorities are now focused heavily on access into export markets, and the need as a high labour cost country is to reach the premium end for returns from the market.
To command premiums producers must be able to deliver fruit at optimum maturity and the quality expected consistently. This presents a challenge as the current determination of testing are time consuming, destructive and messy which deters growers and processors from testing as often as they should to gain an accurate assessment of their crop. By utilising a proven non-destructive testing method, that can commence earlier testing of fruit in the tree than could previously be carried out will be of great benefit to growers, packers, marketers, exporters and ultimately consumers.
The project aimed to collect maturity index readings at the appropriate stages of fruit growth for apples, pears and stone fruit using the DA meter.
The need to identify fruit maturity is high for many of the fruit species. Stone fruit, in particular, has high variability in maturity of fruit from the same tree. This is turn creates high variability in the market place and can result in poor consumer satisfaction and low return purchase patterns. Using a system that can easily identify the maturity range of the fruit will assist in fruit harvesting, and distribution. This is of even greater advantage to an organisation like Integrity Fruit that utilises multiple orchards across the region, which may need to harvest the same cultivar/s at different dates.
Method and results
DA Meter readings were taken of multiple cultivars across different species. These included cultivars from apricot, plum, apple, and pear. The fruits 'Ethylene' levels were collected wekly to obtain differing points in the fruit's maturity. The Ethylene was measured using the Ethylene sampling protocols available on the Horticulture Industry Network website, and the vials containing the samples were sent for testing at Agriculture Victoria Research Bundoora laboratories (AgriBiosciences).
As a Packhouse that sells the fruit to not only domestic markets but export markets, the DA Meter along with the data collected provides a better understanding of fruit maturity in a non-destructive form. This data provide us with a better picking window to ensure longer lasting and better quality fruit for our customers. All data collected has been added to the publicly available database for stone fruit on the Horticulture Industry Network website. The expansion of the same testing by other organisations, similar to Integrity Fruit, will result in a much more robust data set available to the industry. This will also lead to improved fruit quality in destination markets and greater satisfaction for consumers.
With DA Meters and a trained staff member from Integrity Fruit, we can show growers how the technology can work for them. This provides growers with a better understanding of the importance of measuring fruit maturity in a non-destructive way. The grower is now looking for a number on the DA Meter instead of picking, cutting and tasting the fruit to see if they can determine if it is ready to pick.
Conclusion
The results show that the use of DA meters can provide growers with a more effective way of determining the maturity of their fruit.
Using DA meters to dteermine optimum harvest timing for fruit will improve the consistency in the maturity and quality of fruit harvested across different orchards
There are also opportunities to use the DA meters to better understand the variation of fruit maturity within trees to improve harvest strategies or guide further management of crop physiology
Integrity fruit will be using the results of the trial to work with their suppliers to increase skills and knowledge in the use of the DA meters.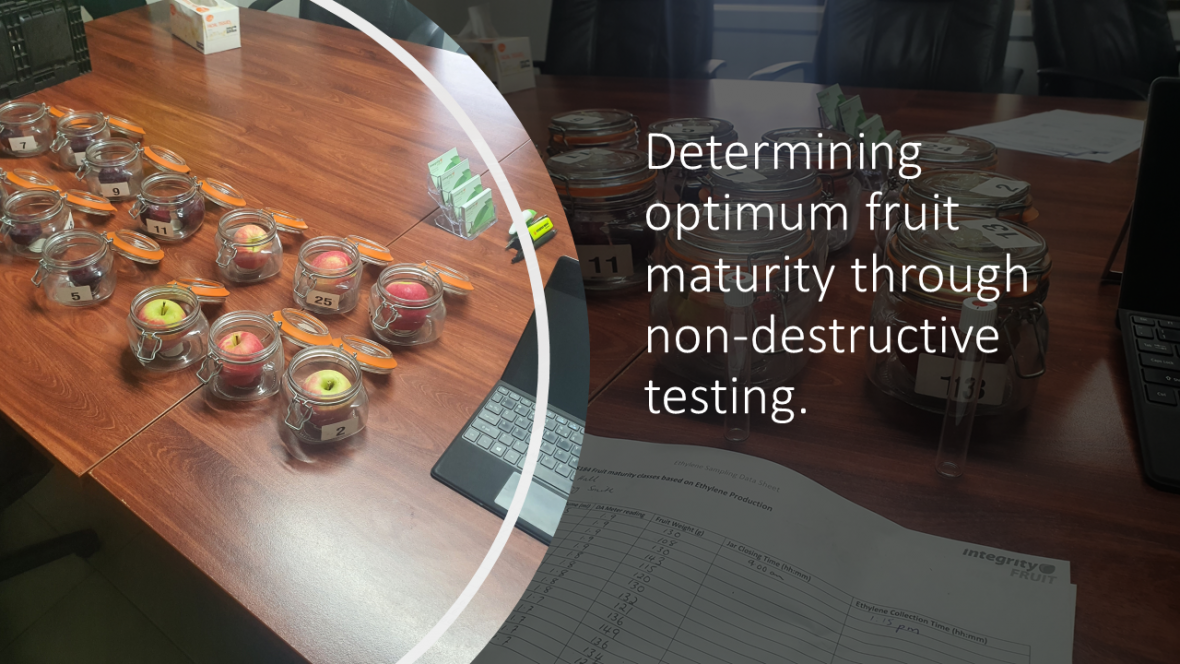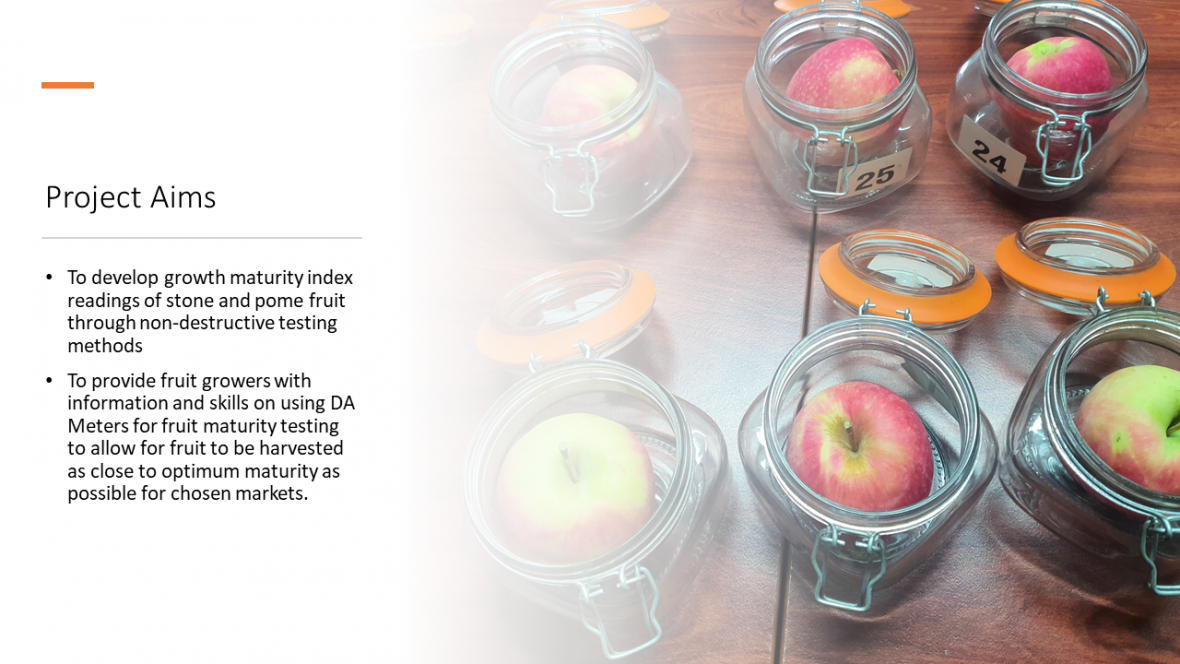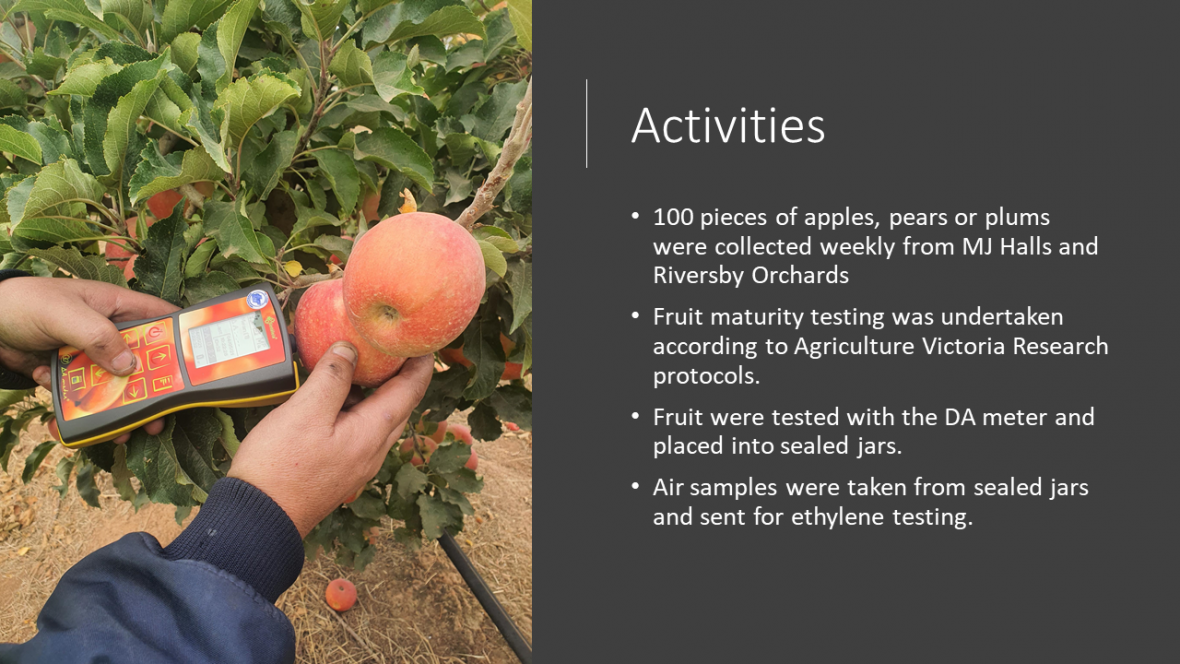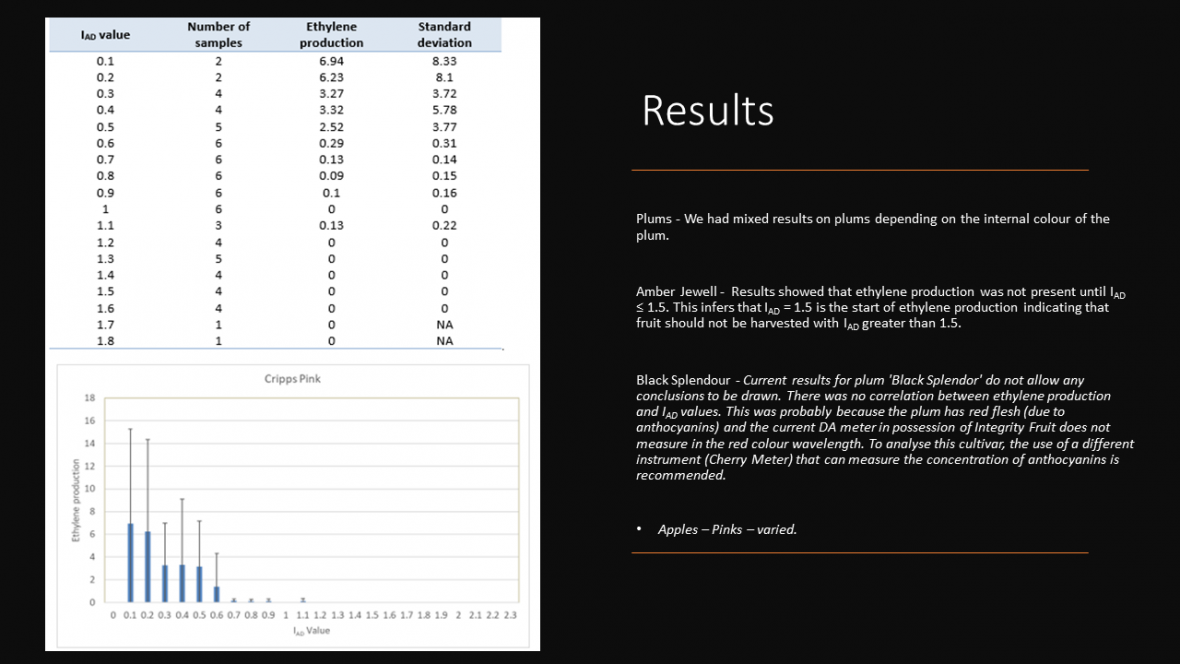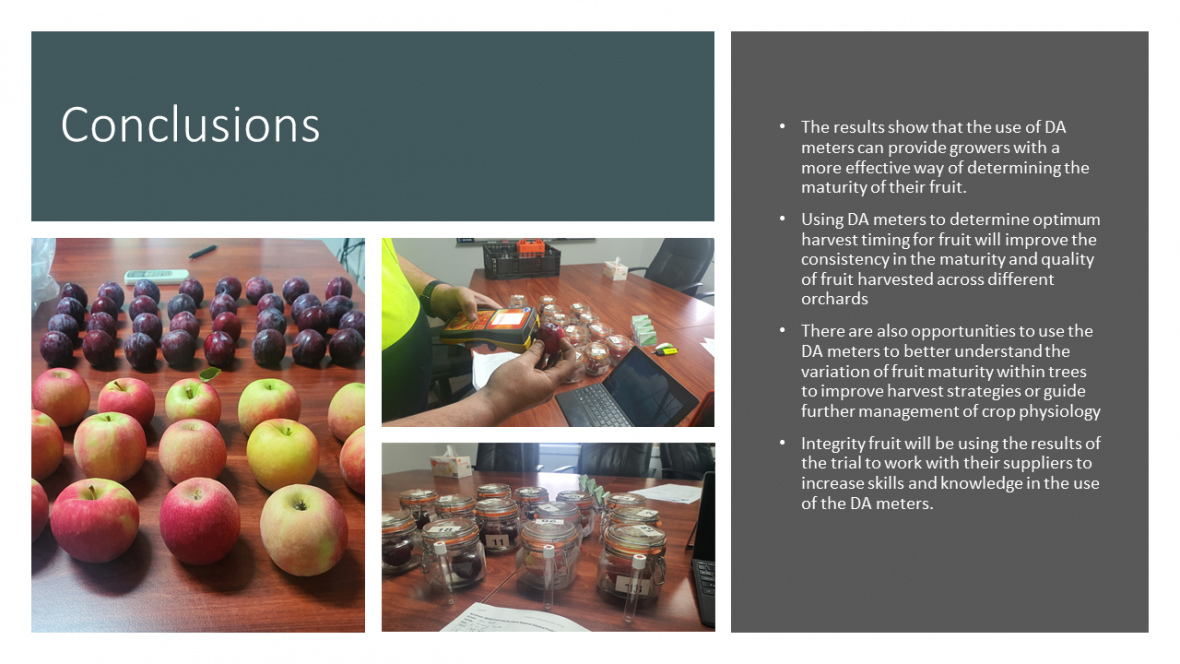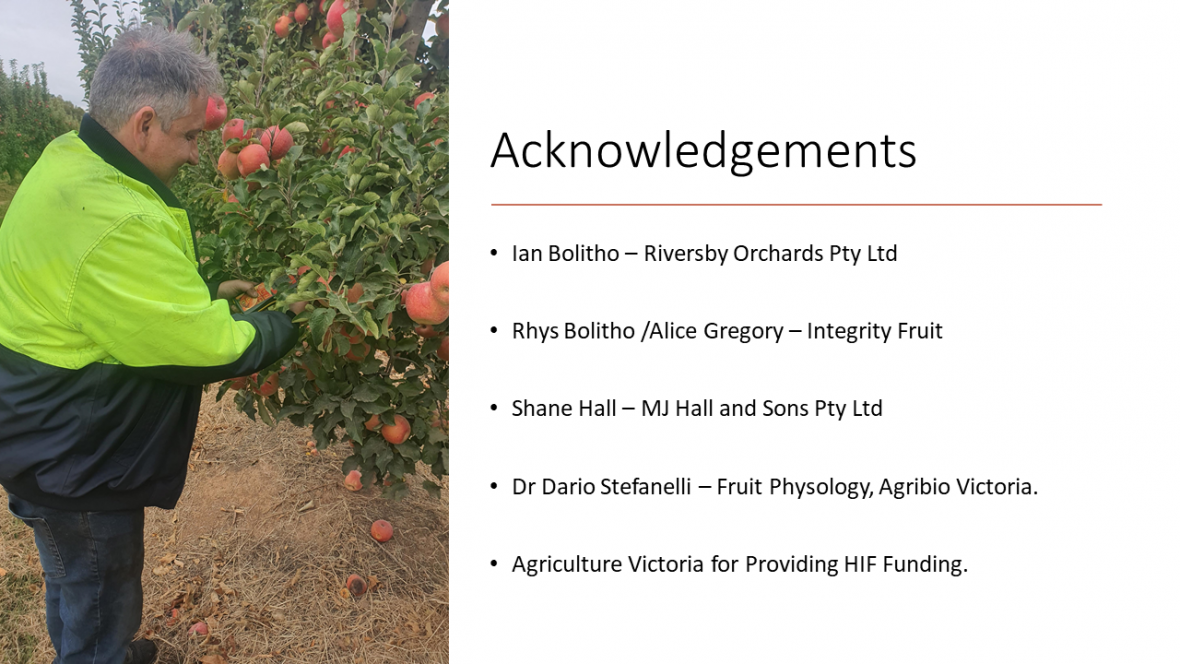 Acknowledgements
Ian Bolitho – Riversby Orchards Pty Ltd
Rhys Bolitho /Alice Gregory – Integrity Fruit
Shane Hall – MJ Hall and Sons Pty Ltd
Dr Dario Stefanelli – Fruit Physology, Agribio Victoria.
Agriculture Victoria for providing funding through the Horticulture Innovation Fund.