The 3 ha research orchard, developed in 2013-2015, contains high density plantings, multiple rootstocks and cultivars, alternative canopy architectures and advanced irrigation and fertigation technologies to investigate future production systems to deliver the best quality fruit to meet market expectations.
Topics:
Field experiments (summary)
Fruit attributes
Orchard Establishment
Facilities and infrastructure
The trials for the stonefruit future production systems were determined an industry consultative committee: Stonefruit Field Laboratory Advisory Committee
Field Experiments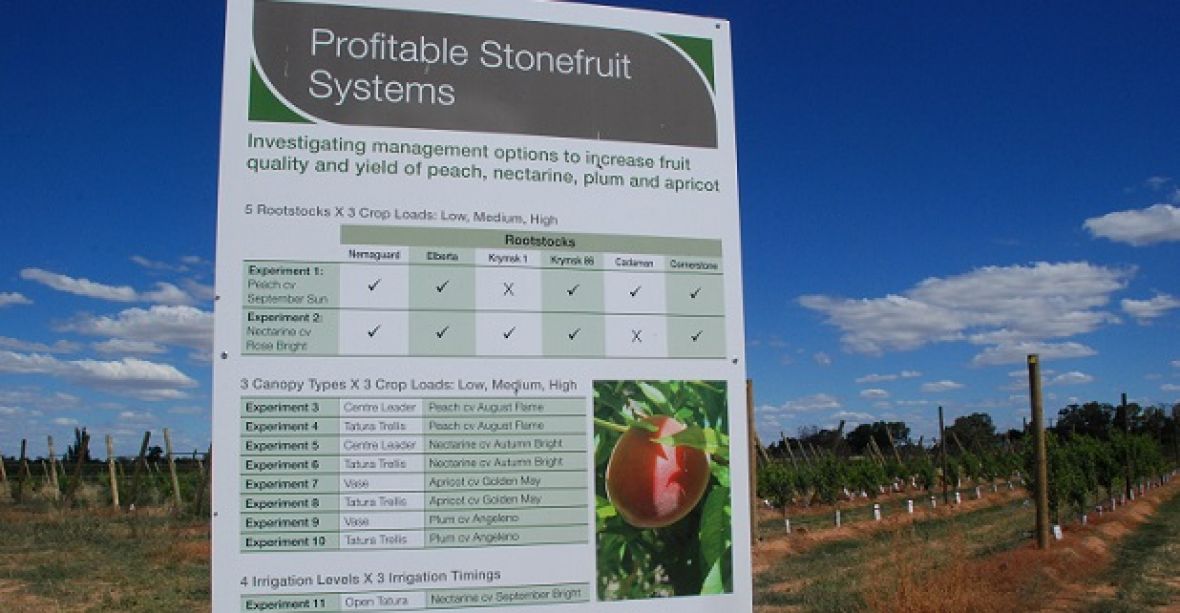 SUMMARY Summary of field experiments & demonstration blocks
Fruit attributes
Fruit attributes of crop and cultivar types used in the stonefruit research orchard.
Orchard establishment
Dr Mark O'Connell discusses how this high density orchard was established (3 min, 30 sec)
Procedures and methods to establish the stonefruit field laboratory.
Things to consider:
Cultivar
Canopy architecture
Row dimension
Row orientation
Tree density
Facilities and Infrastructure
Irrigation headworks
Research harvest facility at Tatura
Video: Irrigation headworks
Dr Mark O'Connell introduces the irrigation headworks shed for the Field Laboratory in Tatura, Victoria
Video: Research harvest facility at Tatura
Dr Mark O'Connell discusses the new Harvest Facility at Tatura (Agriculture Victoria) with a commercial fruit grader equipped with sensors for scientific analysis. (November 2016)